The 2020 Season:
PLEASE READ: In order to protect the health and safety of our community, guests, and staff during these uncertain times with COVID-19, the Guest Hus will remain closed for the 2020 season. Click here for further details. We look forward to welcoming you back in 2021. Kind regards, and stay healthy!
Drue and Ralph
Welcome!
Welcome to A Guest Hus Motel and Historic Knotty Pine Cabins — Your Home Away From Home, in beautiful Lanesboro, Minnesota! We offer a friendly five-room motel in a 1900 home, plus two charming vintage cabins, all with private baths and air conditioning.
What is a Hus? Hus is the Norwegian word for house, and we are so-named because of the strong Norwegian heritage of Lanesboro!
>> VIEW OUR FULL IMAGE GALLERY
Our accommodations are: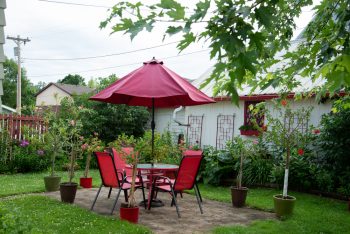 Homey: Explore the gardens, glide on the glider, or relax on the patio to the sound of the gurgling fountain. An old-fashioned brick barbecue grill is available for guests, as well as picnic supplies and tiki torches. Or, rent the whole Hus for a family reunion or wedding, and have the run of the place!

Affordable: Excellent mattresses, high quality cotton sheets, fluffy towels, good coffee with real half and half in ceramic mugs. We try to celebrate life's little luxuries, reasonably. Rooms and cabins start at $79/night.
Impeccably Clean: We've received a 100 percent score from the Minnesota Department of Health every year since we opened in 1992!
Both smoke-free and pet-friendly, we offer locked bike storage, off-street parking, an outdoor patio, WiFi, and morning hot beverages. Please note that all of our rooms have private baths and air conditioning.
Just a 10-minute walk from downtown Lanesboro, our setting is gardeny and peaceful, allowing you to relax and unwind.
>> VIEW OUR FULL IMAGE GALLERY
For Our Guests:
Guests receive a $5.00 discount off of each regularly priced adult ticket at the Commonweal Theatre.
Take part in our family-friendly Norwegian scavenger hunt. Find the nisse (gnomes) hidden in the Guest Hus gardens and win a prize. Click for more details.
Enjoy our rare and unique Nordic Rose Garden.
We look forward to hosting you in one of our five popular guest rooms or two vintage cabins! Learn more about the Guest Hus Motel rooms, the Historic Knotty Pine Cabins, or read reviews from our guests.